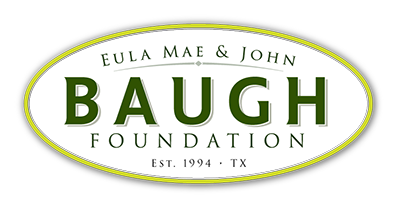 About the Eula Mae and John Baugh Foundation
Compassion: Caring for the most vulnerable in society
Inclusivity: Intentional inclusivity in faith settings
Priesthood of Every Believer: Capability of every person to interact directly with God
Bible Freedom: Seeking the truth in scripture in an academically rigorous way
Church-State Separation: Protecting freedom of religion, for religion, and from religion
Church Autonomy: Freedom of individual congregations to govern themselves
Applications for the 2024 cycle open April 1, 2023.
Letter of Interest applications are due October 1, 2023.
The Baugh Foundation will notify organizations by October 31, 2023, whether or not they are invited to submit a formal request. Formal request are due December 15, 2023.
Organizations will be notified of funding decisions by the end of January 2024.